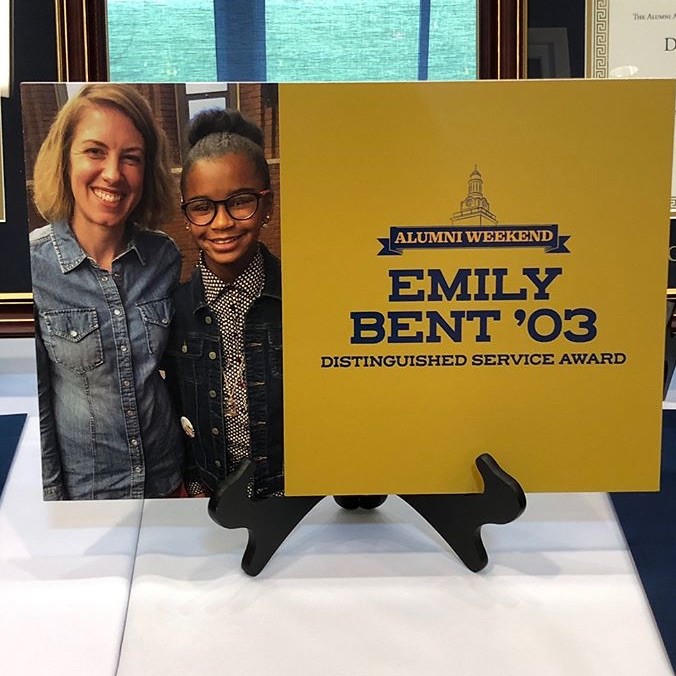 On April 28th, 2018 WILL alumna a former TCNJ faculty member, Emily Bent received the TCNJ 2018 Distinguished Service Award during Alumni Weekend.
Bent graduated TCNJ Summa Cum Laude in 2003 with a B.A. in Women's and Gender Studies, with her senior thesis "Pro-anorexia Websites and the Cult of Thinness".
In 2004, Bent completed her M.A in Women's and Gender Studies at Rutgers University with a concentration in Agency, Subjectivity, and Social Change. Her Masters Thesis was titled "Differential Consciousness and the (Re)Translation of Women's
Leadership Programs: From Theory to Practice and Back Again"
In 2012, Bent received her Ph.D in Global Women's Studies from the National University of Ireland with her Dissertation "(Re)Thinking the Girl Effect: A Critical Analysis of Girls' Political Subjectivity and Agency at the United Nations 54th Session of the Commission on the Status of Women"
Bent currently works as an Associate Professor of Women's and Gender Studies at Pace University where she has been recognized as the 2017 LGBTQ Educator of the Year and received the 2016 Faculty Activist Award.
In addition to innumerable other accolades, Bent is the Co-Founder of the International Day of the Girl Summit, UN Representative for the Feminist Majority Foundation and Girls Learn International, and the Co-Chair of the Girls Participation Task Force, Working Group on Girls.