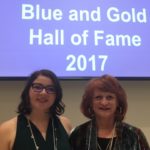 Congratulations to current Gender Watch and former Executive chair, Rosie Driscoll (pictured left) for being selected for the Leadership Blue and Gold award.
"The Blue and Gold Award honors students who have made extraordinary and sustained contributions to The College of New Jersey. This award acknowledges our understanding that these students, through the quality of their work and dedication to the mission of the College, will have a positive and lasting impact on the student experience. These individuals have all proven themselves to be critical change-agents, excellent role models for their fellow students, and dedicated and able leaders in and out of the classroom. These individuals represent leadership, scholarship, service and the core beliefs of the College,"- (https://leadership.tcnj.edu/blue-and-gold-hall-of-fame/)
Each year only 12 students from the upcoming senior class are chosen for the award.