"Probably the most important piece of political theater of the last decade."

– New York Times
The Vagina Monologues is a play based on the 1994 book by writer and playwright Eve Ensler. The play is a series of monologues dealing with female sexuality and the stigmatizing culture surrounding rape and sexual assault. The monologues are performed by a series of women from all walks of life.The purpose of the play is to bring attention and promote action against the issues women face.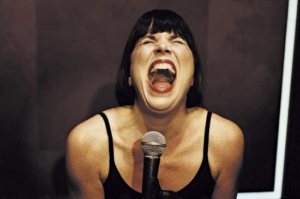 The Vagina Monologues were performed off-Broadway from 1994-1999. On February 14th 1998, Eve Ensler and fellow women established the V-day non-profit to end violence against women and girls. The V-day campaign draws financial support from Vagina Monologue productions performed in schools, colleges, youth groups, and other The volunteer-led organization puts the message of The Vagina Monologues into real change.
At TCNJ, the Vagina the ticket proceeds for each year's production for The Vagina Monologues will go to the V-day campaign.
To learn more about the V-day campaign, www.vday.org